18th October 2023
Interior insights with our founder, Amalia Boier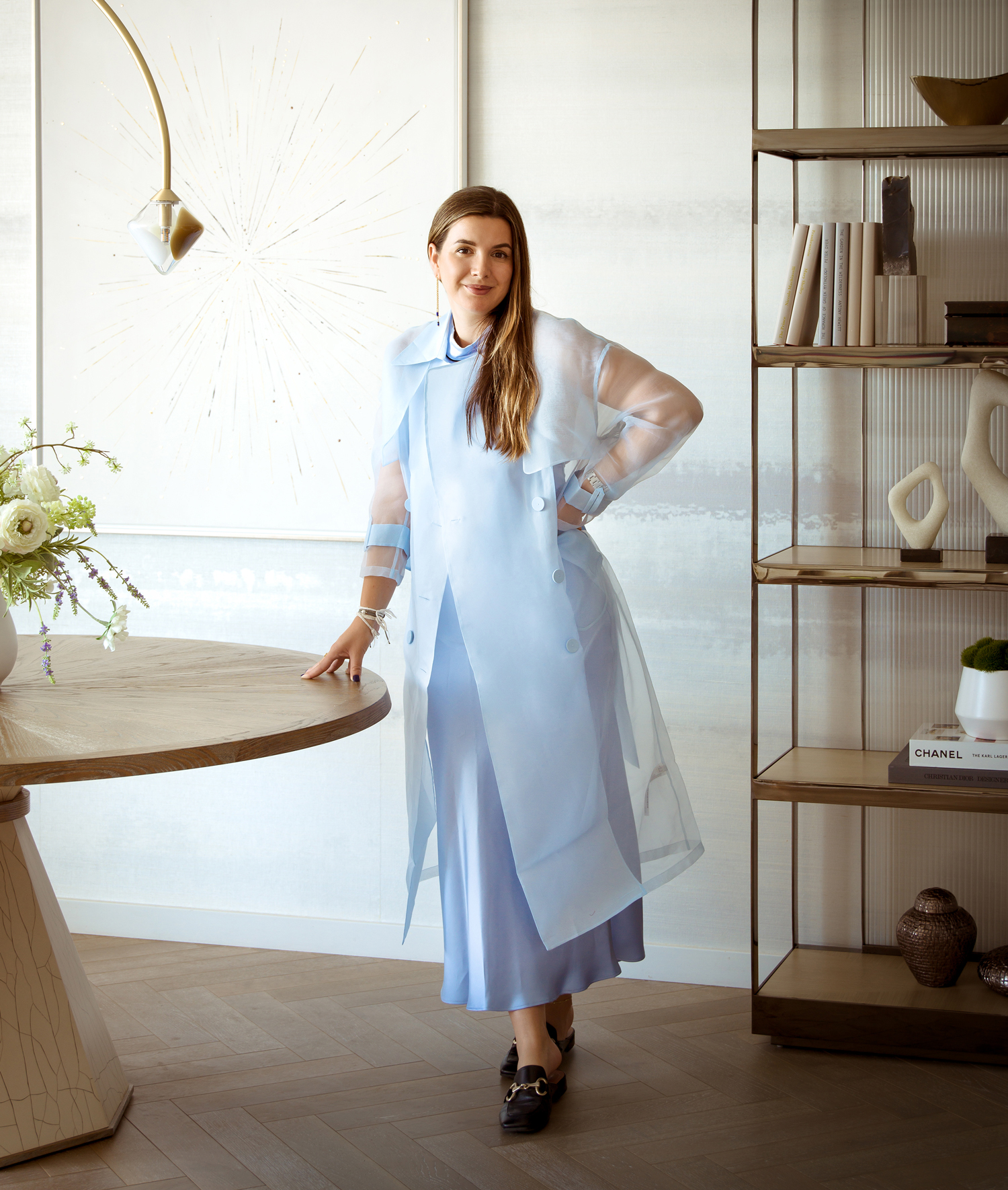 Meet Amalia, the visionary force and creative director behind our interiors atelier.
Her expertise spans a diverse spectrum of design disciplines, including spatial planning, turnkey high-end residences, interior architecture, curation, sourcing, project management, and project delivery.
A creative with a keen eye for detail and beauty, Amalia knew from an early age she wanted to be a designer. She began her journey in the enchanting landscapes of Transylvania, Romania, where she spent most of her childhood. However, it was London, where she was later raised, that ignited her true passion for interior design and architecture.
Her academic pursuits led her to the University of the Arts, London, where she honed her skills with an Interior Architecture and Design Degree, complemented by a Foundation Diploma in Art & Design and gained invaluable work experience that elevated her skills at several of London's most prestigious interior design studios.
Her eye for detail and deep appreciation for cultural diversity not only enriches the creative spirit of her studio, but also serves as an inspiration in delivering designs that are both culturally relevant and entirely unique.
Each of her designs is infused with the desire to bring beauty and meaning to the projects and to tell stories through exquisite interiors. One of her fortes is always being there for her clients. Clients are not just receiving a designer but a trusted partner who is fully invested in bringing their visions to life. The studio's full turnkey interior design services are guaranteed to eliminate difficulties for the clients and, as well as a commitment to thorough involvement, it provides careful analysis, skilful negotiation, and creative sourcing services.
Amalia's work has been published in leading publications such as Abode2 Magazine, Lifestyle Magazine, House & Garden, Design Et Al, and Dezeen.
Amalia answers…
How would you describe your signature style?
Our style is a harmonious blend of craftsmanship, innovation and artistic flair. We have a deep appreciation for the art of living, drawing inspiration from our clients' unique personalities and architectural nuances of every space, embracing individuality as the cornerstone of our design philosophy. Our goal is to curate spaces that exude harmony and offer a thoughtfully designed sanctuary.
What do you love most about interiors?
What I love most about interiors is the boundless creativity and the opportunity to push boundaries. It's incredibly fulfilling to create and deliver something exquisite, turning people's dreams into reality. Interior design allows us to help humanity evolve and engage in unique experiences, ultimately bringing pure joy, comfort, and immense value to people's lives. It's a field where every project is a chance to elevate living spaces and enhance the quality of life for those who inhabit them.
What spaces do you like to create?
I particularly enjoy creating truly curated and bespoke spaces. These are the spaces that are meticulously thought out, with every detail carefully considered to ensure they are unique and tailored to the individual's needs and preferences. The pursuit of the highest quality in materials and craftsmanship is a priority in these spaces, resulting in an environment that exudes excellence and is a true reflection of the owner's personality and style.
What is important in design?
I believe in interior design, taste, proportion, detailing, finishes and colour harmony are paramount. Taste shapes personal style and preferences, while proportion creates balance and harmony in design. Meticulous detailing, thoughtful finishes, and colour harmony enhance aesthetics and functionality. Together, these elements weave a tapestry of beauty and functionality in every well-designed space.
"Nature, with its boundless beauty, from the sea to the mountains, along with all things organic, serves as a constant wellspring of inspiration, fuelling my creative spirit."
Where does inspiration come from?
Inspiration for me often emerges unexpectedly, whether it's from the unique perspectives and needs of my clients or the creative energy within our studio. Travel experiences, especially when delving into diverse cultures and meaningful hotels, are a rich source of inspiration. I'm drawn to quality and craftsmanship, consistently seeking out the most exquisite pieces. My deep appreciation for art and collectibles ignites my creativity, inspired by the meticulous craftsmanship and intricate details they showcase. Museums, galleries, and remarkable architectural buildings also contribute to my creative reservoir. Nature, with its boundless beauty, from the sea to the mountains, along with all things organic, serves as a constant wellspring of inspiration, fuelling my creative spirit.
What should a client look for in an interior designer?
Someone whom they click with! Interior design has a lot to do with psychology, too. You have to understand each other, listen, communicate, be transparent and have good intentions. For me, through my work, I get to help people and make their lives easier. I shoulder huge responsibility and offer my complete support in order to deliver a dream, an aspiration, a lifestyle, for someone.
What makes a successful interior design scheme?
First and foremost, it must resonate with its users, considering their culture and needs. But also, the process, the communication, and the end result and feedback from clients and acquaintances, and the functionality, look and feel. I love the smile and happiness on a client's face when they first see the project complete, and when they tell you that you've changed their lives.
What makes a house a home?
Personal connection and sense of belonging. With the help of the correct choice of textiles and finishes, as well as warmth, cosiness and attentiveness, you can truly create something exquisite where people feel connected to the place.
Go-to design detail?
Personalisation through bespoke furniture and complete curated styling and dressing, ensuring every element of the design is tailored to the individual.
Ideal colour palette?
In my view, the ideal colour palette embraces muted tones and draws inspiration from the natural world. It's about selecting hues that resonate with the earth's organic beauty, creating a harmonious and serene atmosphere. Muted colours bring a sense of calm and timelessness to a space, while earthy tones connect us to the grounding elements of nature. This palette allows for a seamless integration of the outdoors with the indoors, fostering a sense of tranquillity and balance in the design.