11th October 2023
Sustainable Interior Design, a step in the right direction
When in 1880 textile designer William Morris declared, 'Have nothing in your home that you do not know to be useful or believe to be beautiful,' his statement was, in many ways, an environmental precursor to today's sustainable interior design ethos. Nowadays, the emphasis is on making interiors more eco-friendly, with biophilic designs, energy-efficient lighting, local sourcing, the reduction of carbon footprints, indoor air quality, sustainable and natural fabrics, and durable craftmanship all invaluable elements.
Sustainable interior design is a responsibility we have towards the world we live in and our planet. It is an approach that combines elegance with environmentally responsible practices, and innovative solutions to minimise the environmental impact, focusing on balance, harmony, longevity, durability and innovation. As a studio, we aim to source and use eco-friendly materials as much as we can, creating long-lasting designs. Our goal is to craft timeless and comfortable spaces that reflect both luxury and environmental responsibility.
Creating sustainable interiors involves an approach geared towards being more mindful, aware and responsible. Look for certifications and brands that are environmentally conscious to make a difference in sustainability, and seek guidance from designers if you are unsure about certain products.
"Creating sustainable interiors involves an approach geared towards being more mindful, aware and responsible."
Natural elements are essential ingredients in creating a sustainable home, and materials, such as stone, wood, and linen, play important roles both in enhancing environmental responsibility and interior aesthetics. Stone provides durability, natural beauty, and thermal mass properties for temperature regulation. Sustainably sourced wood injects warmth and character, while contributing to a cosy atmosphere. Linen, an eco-friendly textile, offers freshness, breathability, and hypoallergenic properties, making it an ideal choice for upholstery and textiles. These elements not only reduce environmental impact through responsible sourcing, but also bring a sense of natural beauty, longevity, and comfort to sustainable interiors.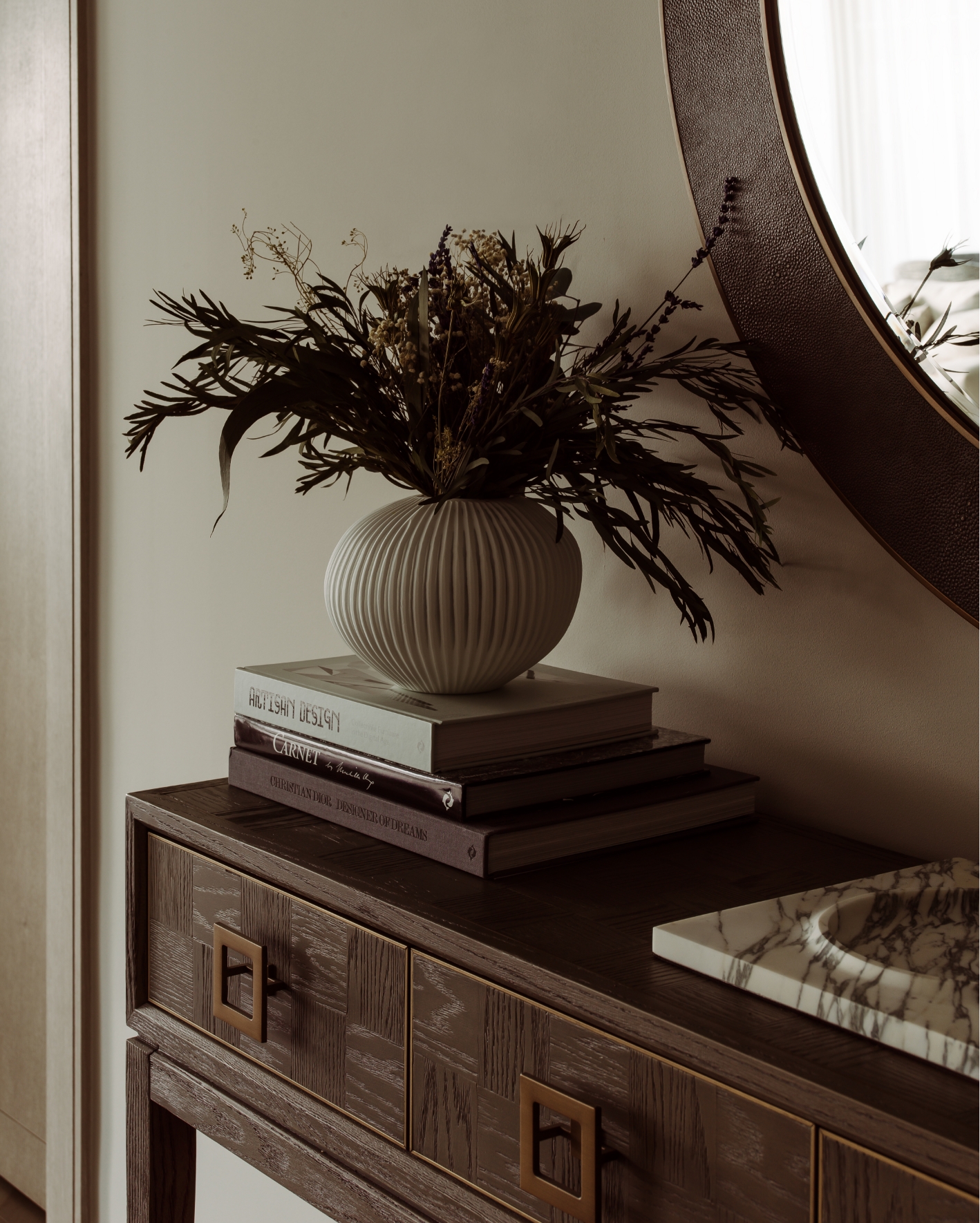 Implementing natural and naturally treated materials is a key driver. Some are vital components in our decisions and sustainably conscious interior designs. Products with eco credentials that are go-tos in our design repertoire include Graphenstone Paints, renowned for being harm-free as well as eco-friendly, as well as paints by Farrow & Ball, Benjamin Moore and Coat. Preferred eco-friendly fabric suppliers include Chase Erwin and Dedar, who produce sustainably reports, while The Invisible Collection is a furniture supplier that combines a no-waste value with social responsibility and durable craftmanship. We also strive to work with and source from responsible suppliers that implement recycled textiles and recycle and upcycle their materials.
Waste reduction and energy efficiency are important factors in interior design, too. Full refurbishment projects in existing buildings often mean interior architectural detailing can be adapted and historical structures or features reused. Home technology is a 21st century solution that can go a long way to creating a sustainable home. We incorporate smart home technology, such as intelligent lighting and HVAC systems, to optimise energy consumption while maintaining aesthetic ambience. For our full home renovations, we make sure we are equipped with advanced insulation and energy-efficient windows to reduce heating and cooling demands.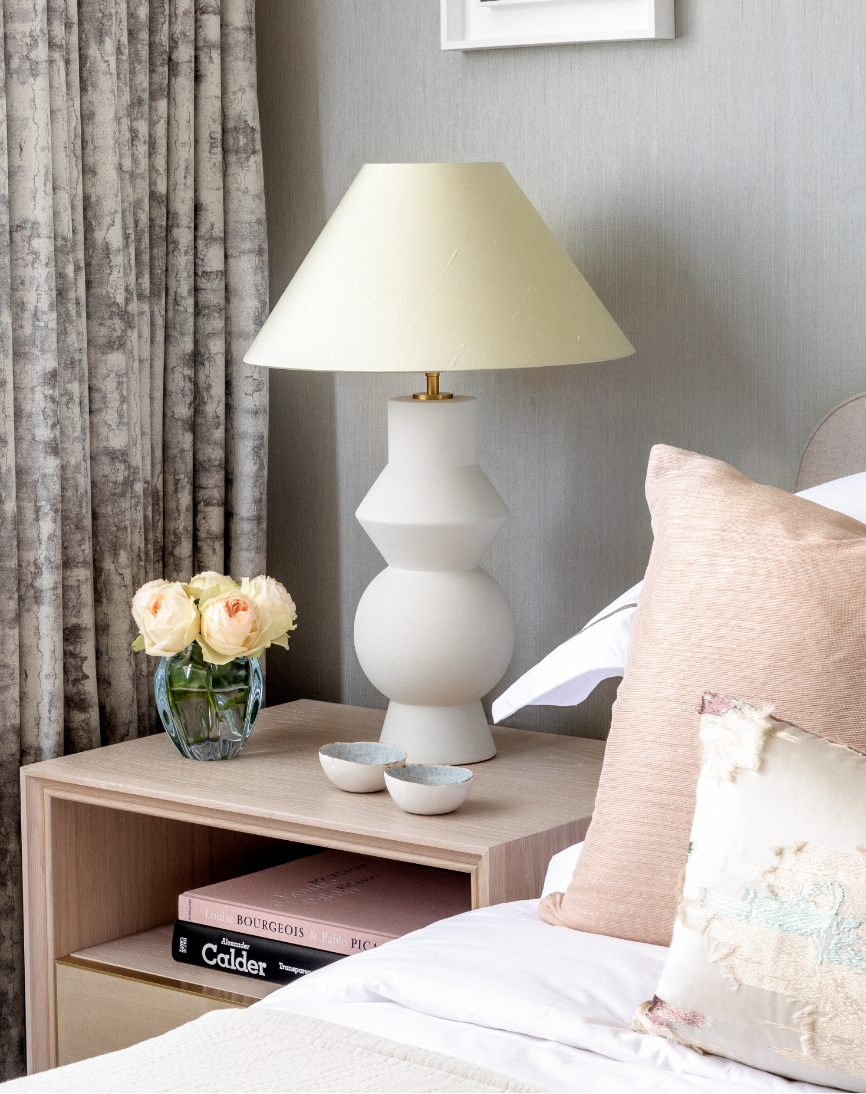 Designing for longevity is key to sustainable interior designs. As a studio, we have zero-waste design principles that can be applied by using bespoke, durable craftsmanship and high-quality furnishings and fixtures that are built to last and designed with modularity in mind.
From a decorative point of view, the use of antiques and vintage pieces is an effortless way of introducing sustainability. We cherish the craftsmanship of these pieces, the timeless appeal, and the ability to infuse a sense of history into our designs. I love to juxtapose them with modern contemporary elements and create a balanced interior. They are valuable additions to our design concepts as they hold historical meaning and uniqueness, which is in line with our ethos.
As an ecocentric interior design atelier, our emphasis is on sustainability throughout our designs. We try and apply sustainably and environmentally friendly choices to all of our projects, whether by using or designing locally in the UK, or by selecting eco-friendly materials, energy-efficient lighting, or even by reusing furniture or reupholstering to impart a new lease of life. We value transparency, and we try to be as mindful and aware as possible with regards to suppliers and their sustainability values, and how they can help us to implement sustainability seamlessly to meet both aesthetic and eco-conscious objectives.